Purple Okra and Bacon
Confession; I had no idea what these were when I saw them at the farmer's market.
These things are interesting looking. Of course, I have heard of okra and even eaten it on occasion, but until the other day at the farmer's market, I had never seen them fresh and uncooked. They are odd looking, to say the least.
I spoke with the grower for some time about them. They are fresh from right across from the market.
He talked to me about how important it is to get them super fresh. The longer they sit, the more 'sticky' they get. Apparently, this is something that typically turns people off from cooking it. Nobody likes slimy food!
Wild Looking!
Health Benefits
Okra is Super high in fiber and is reported to have amazing health benefits such as increasing stress relief and lowering cholesterol and more...
"One cup of raw okra (100 grams) contains 33 calories and includes a whopping 44 percent of the bone-strengthening vitamin K you need for one day, which is important as a co-factor for blood-clotting enzymes.
Nutrition and You also notes that the folate in okra imparts 22 percent of the RDA in a 1-cup serving, which is important for pregnant mothers to decrease the risk of neural tube defects in their babies.
Vitamin A content in okra, important for good vision and more, includes flavonoid antioxidants, such as beta-carotenes, xanthan, and lutein. Other nutrients include thiamin, vitamin B6, calcium, niacin, phosphorus, and copper.
To go along with its traditional uses, the compounds in okra help maintain healthy skin and mucous membranes.
Okra's Impact on Blood Sugar
For diabetic individuals, animal studies suggest okra pods may help alleviate diabetic effects, due to its myricetin content."
Read more about this at Mercola.com.
I just had to cook it up!
I did not purchase them right away. In fact, I waited a week after I saw them and then went back and purchased them fresh. I needed to do some research on different ways to cook okra. When it came down to it, I settled on a little creation of my own and it was so good!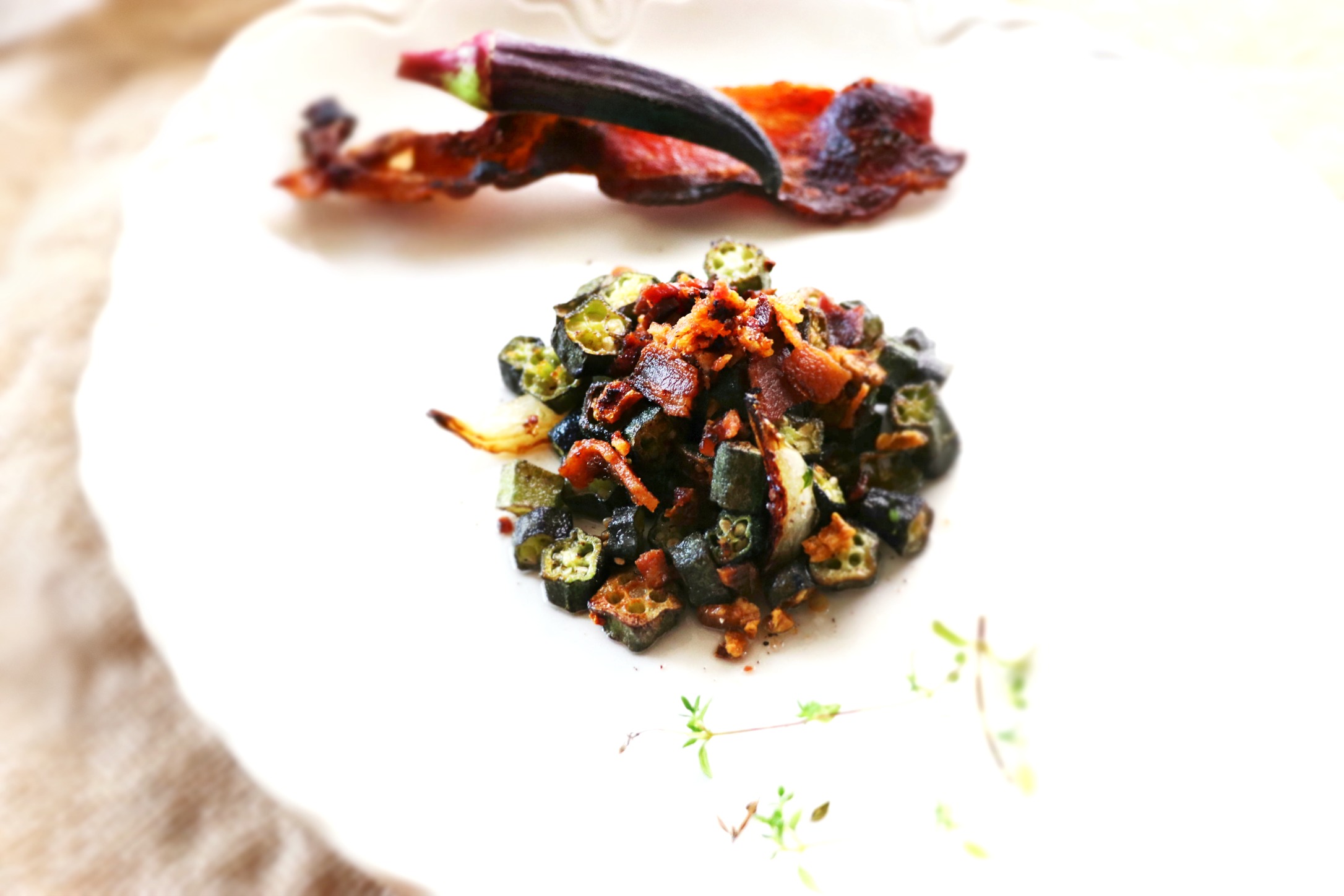 Purple Okra and Bacon Ingredients
4 slices thick cut bacon
1/8 sweet onion
2 tbs coconut oil
One clove garlic
2 slices of sweet onion
Fresh thyme
About 1 lb okra
Pink Himalayan salt to taste
Fresh ground pepper to taste
Purple Okra and Bacon Instructions
Brown four slices of bacon in a large sauce pan over medium heat. When bacon is browned and crispy remove and let cool. Pour out bacon grease but do not clean.leave any browned bits and a thin layer of bacon grease. Over medium heat in the same pan, add 2 tablespoon coconut oil (neutral flavor, you don't want it to taste like coconut). Add onion and garlic and let brown. Add thyme. Add okra, working in batches if need be so as not to crowd them. Salt and pepper and mix until brown. As this is browning chop bacon into bits. Add the bacon back into the okra once it is done browning. Remove from heat and serve.