Beef and Bacon Slow Cook
I always turn to my love of pretty, good food.
About 8 years ago I started this little blog. I did it because I was doing Gretchen Rubin's Happiness Project at the time and wanted a good way to document my little adventure of attaining happiness in life.
At the time, blogs were not a big deal. Not like they are today. In the happiness project, each month is dedicated to a different area of growth in your life and an area that can help you to grow in your quest for happiness. My little blog was just a once a month post on how it went.
The weirdest thing happened; I found something that really did make me so happy- cooking.
I found this beautiful cook book entitled "Around my French Table," by Dorie Greenspan and nothing was ever quit the same.
Instead of my blog being about my adventure through the happiness project, it became about my adventure learning to cook the recipes in this book. Although that little blog is now lost somewhere in the internet abyss, the lessons I leaned during that time cooking still resonate today. I still use concepts I learned from this book every time I get out a pan. It taught me basics and it taught me what good food with real ingredients is supposed to taste like.
This recipe I put together is no exception.
Health Benefits
Red meat does not always get the best rap, but recently there has been studies out concerning the healthful benefits of red meat.
On Dr Kelly Brogan's site she writes...
"In a study entitled Red Meat Consumption and Mood and Anxiety Disorders, they looked at a sample from a cohort of 1,046 women aged 20-93 and found that those who ate less than 3-4 servings of beef or lamb a week were TWICE as likely to be diagnosed with depression and/or anxiety. Australian meat is by and large grassfed, a highly relevant variable in this type of study. They controlled for variables including the "healthy user bias" as well, finding that demographic and lifestyle differences could not have accounted for the finding."
Omega-3 fatty acids are attributed to the benefits and are important to mental and physical health. Interesting.
That being said, I'm down for some occasional beef.
As a former 4-Her, If you are a beef eater I would highly suggest contacting your local 4-H club and attending a country fair. You can purchase a whole beef or split one with someone. You can talk right there with the kiddo that raised that beef. They can tell you exactly what it ate, how it was raised and the guaranteed pride and love that kiddo has had for the job they have done in providing you the best beef possible. Now is the time. County fairs are typically starting around now and go through State Fair , around September. Not only do you get the best beef, but you support a a kiddo learning the value of hard work.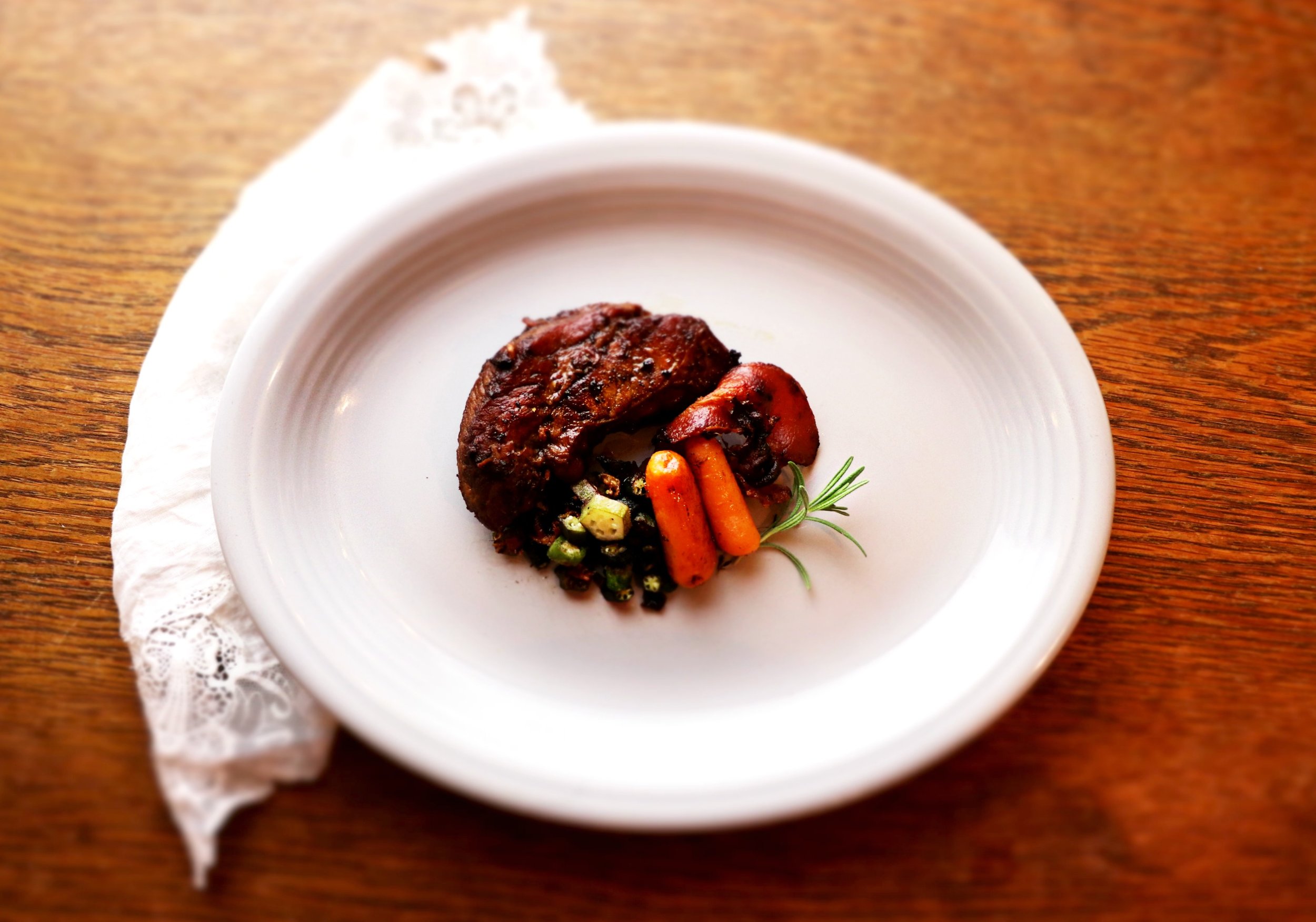 Beef and Bacon Ingredients
Eight slices of thick cut bacon
One clove garlic
Half a sweet onion
1/4 cup apple cider vinegar
6 Petite cut steaks without bone
1 cup carrots
One sprigs of fresh time
One sprig of fresh rosemary
1/4 cup grass fed butter or ghee
Salt and Pepper to tatse
Instructions
Preheat oven to 425°. Brown bacon in a Dutch oven or heavy bottomed pan. Once bacon is Brown remove and set-aside to cool. In the Dutch oven with the bacon grease over high heat brown the beef steaks. Don't Crown the pot – if you try to cook too many pieces at once you'll steam the meat rather than brown it. Remove the steaks and set aside. Turn the heat down to medium on the Dutch oven and add the onion and garlic and brown. Once onions are soft add the Apple cider vinegar. With a heavy wooden spoon to scrape the little round tits off the bottom of the pan as the Apple cider does it's magic. Remove from heat. Add back in the steaks and bacon she had making sure to bury in the sauce as best as possible. Add the butter or ghee atop. Add the carrots to the top as well as the rosemary and thyme. Cover tightly. A piece of tinfoil before the lid will ensure a super tight seal. Place in the oven on a medium rack at 350° for two hours. Remove and serve. Salt and pepper to taste.
I served this with okra...
...and of course, cooking would not be complete without my kitchen buddy. McKenna is the most honest critic and best company.